The Indie Photobook Library on TIME LightBox!
---
The Indie Photobook Library is TWO!
On May 13, 2012, the Indie Photobook Library celebrated its 2nd Anniversary. Thank you to all the photographers/artists/bookmakers that have made the collection what it is today! I'd also like to thank Advisory Board members Darius Himes, Andy Adams, Shane Lavalette, and Gabe Reed and all the venues that have welcomed the iPL. In the last two years, the collection has grown to almost 1000 books. The iPL continues to promote and showcase the books in the collection through international pop-up and feature-length exhibitions, articles, conferences, guest lectures, and also preserves them as a non-circulating public library. Having a specific collection dedicated to this contemporary movement in publishing allows for the development of future discourse on trends in self-publishing, the ability to reflect on and compare books in the collection, and for scholarly research to be conducted years, decades, and centuries to come. I am looking forward to continuing the iPL mission.
Cheers,
Larissa Leclair
Founder, Indie Photobook Library
---
Larissa Leclair interviewed by Stacy Oborn on Hey, Hot Shot!
---
The Indie Photobook Library at FotoWeekDC, November 6-13, 2010.
---
The Indie Photobook Library and Self Publish, Be Happy have teamed up to bring you a fantastic array of indie and self-published books at this year's Flash Forward Festival Oct 6-10, 2010.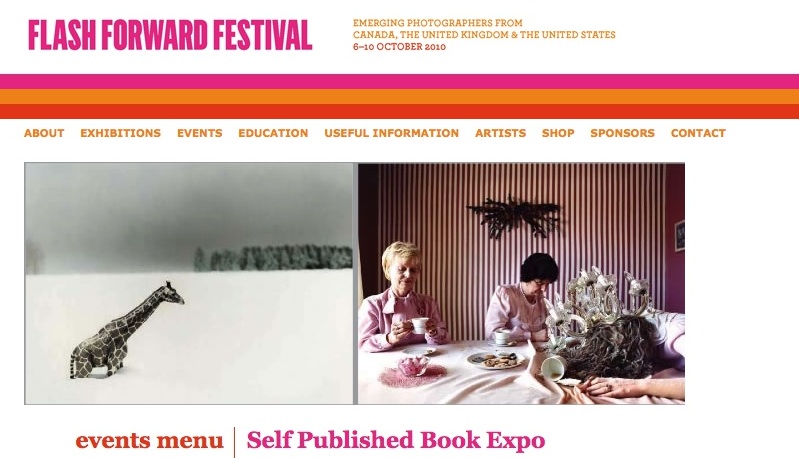 ---
Dide Magazine, the leading online photography magazine in Iran, features the Indie Photobook Library.
---
Smogranch announces the official launch of the iPL website and writes a glowing review.
---
Hey, Hot Shot! mentions the Indie Photobook Library in their Week in Review: August 2, 2010
---
iPL Ambassador Nathalie Belayche and Nick Turpin spread the word about the Indie Photobook Library at Les Rencontres D'Arles 2010
Photograph ©Nick Turpin
---
Larissa Leclair meets with George Slade at the Photographic Resource Center. Three hours of looking at books from the Indie Photobook Library was just not enough! (July 22, 2010)

Photograph ©Larissa Leclair
---
Little Brown Mushroom Blog gives a shout out to the Indie Photobook Library (July 16, 2010)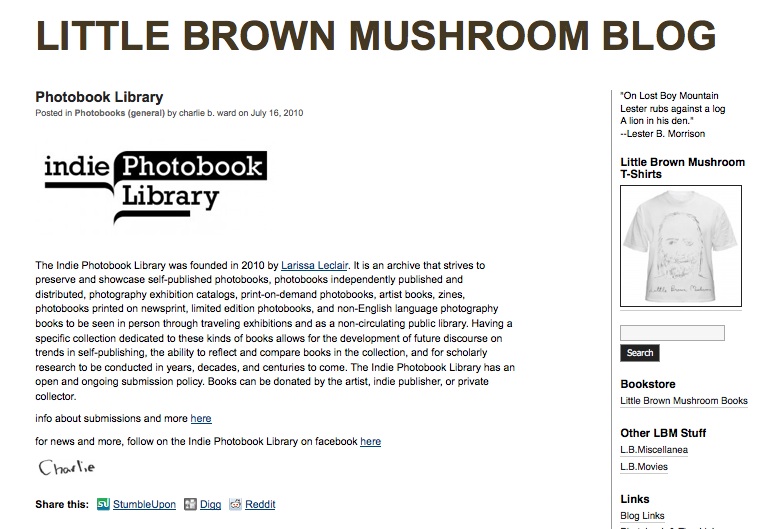 ---
Alan Rapp discusses the state of independently published photobooks and includes the Indie Photobook Library.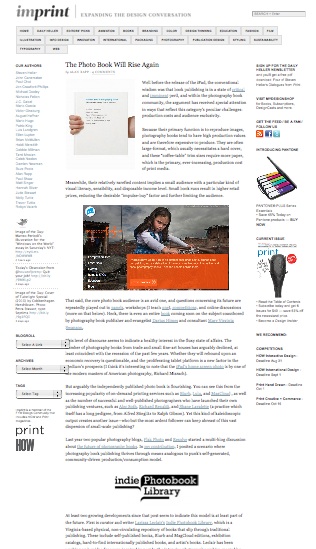 ---